Looking for something a little different than the popular Chevrolet Silverado or Colorado pickup truck? Maybe an SUV like you've never driven before is more your style. Look no further than SCA Performance, who has been the premier Special Vehicles Manufacturer since 1979. Headquartered in Trussville, Alabama, SCA Performance has crafted over 120,000 customized pickups trucks and SUVs of many makes and models, including those of your favorite and popular Chevrolet brand. If you're interested in learning more about the 2019 SCA Black Widow Tahoe or 1500, contact Liberty Chevrolet today and we'll show you why so many people trust SCA Performance Accessories for their vehicle makeover.

The Chevrolet Tahoe Black Widow
An SUV in a class of its own. This blacked out version of your favorite Tahoe SUV is commanding in its presence. With the same engine and horsepower as Chevrolet's traditional Tahoe SUV, SCA Performance puts their unique twist on this fully customized, powerful SUV. Lift the vehicle and suspension six inches and add tough 33-inch BF Goodrich All-Terrain KO2 tires for a ride you've never experienced before. Some of our favorite features include:
20 Inch Black Widow Wheels
SCA Logo Red Brake Caliper Covers
SCA Smooth Fender Flares
SCA Tahoe Hood Vent
Black Widow LED "Puddle" Projector Lights
Red LED Interior Lighting
Black Widow Speedometer Gauges
Black Widow Custom Stitched Headrests
Painted Interior Trim
Tinted Front Windows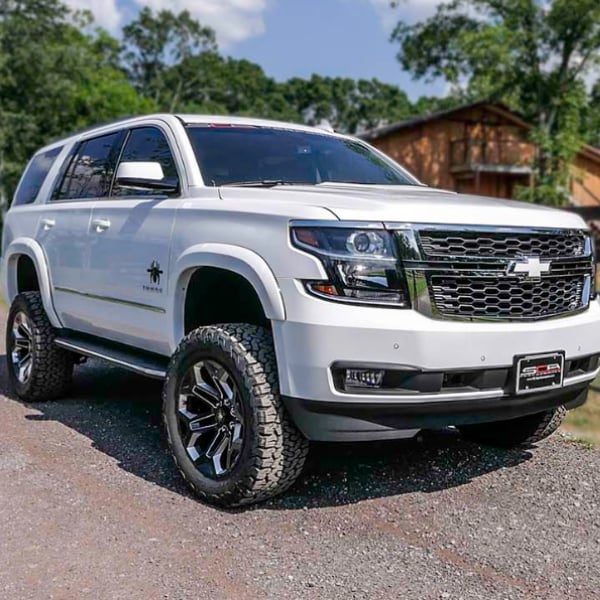 There's no need to worry about being road-friendly. The Tahoe Black Widow meets all FMVSS standards. What's more, SCA Performance is so confident in its work, you'll get a three-year, 36,000-mile warranty. If you're interested in finding out more, contact us today!
The Silverado 1500 Black Widow
Just like the Tahoe SUV version, this bad boy takes your favorite Chevrolet pickup to a whole new level. You still get a six-inch suspension lift, but you'll enjoy 35-inch BF Goodrich All-Terrain tires on the Black Widow pickup. And also like the Tahoe Black Widow, the Silverado 1500 meets all FMVSS standards and comes with the extra value of a three-year, 36,000-mile warranty. Some of our favorite features here are:
20-inch Black Widow Wheels
SCA Logo Red Brake Caliper Covers
SCA Speedometer Calibration
Performance Exhaust Upgrade
Black 5 Inch Oval Wheel-To-Wheel Side Steps
SCA Bolt-ON Style Fender Flares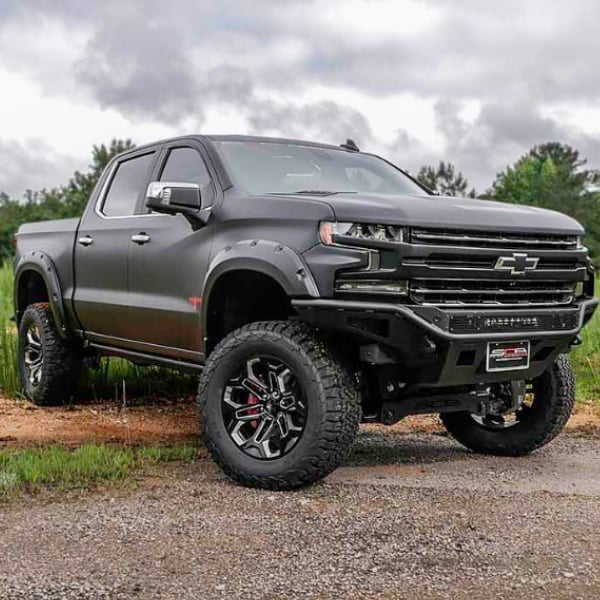 Find out more about SCA Performance Accessories in West Georgia Today!
Those are some sharp looking pickups and SUVs, aren't they? You won't find them anywhere. But if you're interested in a Chevrolet pickup or SUV like you've never driven before, contact Liberty Chevrolet and find out why SCA Performance Accessories are right for you. Sometimes bigger is better, and SCA Performance take your favorite and trusted Chevrolet vehicles and does just that, bringing you a more exciting vehicle than you've ever driven before. Contact us for more information today!