When you shop our Villa Rica, Georgia dealership for Chevrolet cars, trucks, and SUVs for your business or trade needs, you may be eligible for up to $1,000,000 in tax write-offs. Go ahead and read that again. It's not a typo, nor is it a gimmick. It's the Section 179 deduction, which allows businesses to write off the full purchase price of equipment they buy to use for their trade. Some of that equipment is right here at Liberty Chevrolet, where you can find Silverado pickups and commercial vehicles that are qualifying products and eligible for write-offs… of the FULL purchase price. If you've been thinking about getting a new Silverado 1500 for the construction site or even an Express Passenger van to get people around, now is the time to consider buying. Contact Liberty Chevrolet for more information on commercial tax benefits today.

Who is Eligible?
If you own a business or are a contractor, the Section 179 deductions allow you to write off the entire purchase on qualifying equipment. That's not always how it was, however. Originally, when you bought a new Chevrolet Silverado for the worksite, you were allowed to write off depreciation values each year. Now, you can take care of it all at the time of purchase. Of course, you can't go all-in on your business and expect to write it all off. There is a cap of $1,000,000, which s plenty to work with. And here's the best part. Any business that buys, finances, or even leases new or used business equipment is eligible. Most vehicles that are used more than 50 percent for business or contracting use qualify for some sort of deduction, so be sure to inquire about Section 179 on the vehicle you are shopping for.
What Vehicles Qualify?
Any vehicle used for your business, whether you own it or are an independent contractor, is eligible for some write off. Some passenger vehicles have limitations of $11,600 or $18,000. But most larger commercial vehicles used specifically for business purposes are eligible. Vehicle considered work vehicles and eligible for a full write-off of purchase price are:
Commercial vans or passenger vans that can sit nine or more people like the Chevrolet Express Passenger van
Cargo vans with a fully enclosed driver's compartment and no seating behind the driver like the Chevrolet Cargo Express
Heavy construction equipment like forklifts or the Chevrolet Silverado HD
Tractor trailers like the Chevrolet Express Cutaway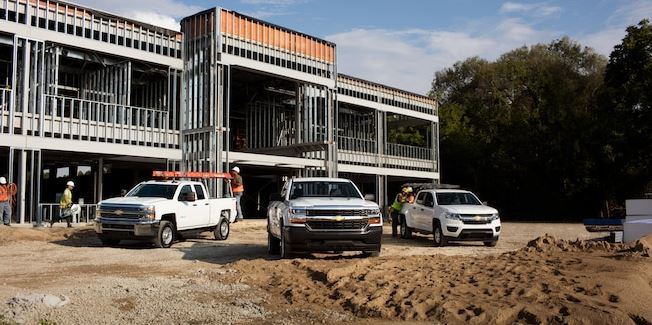 Let Liberty Chevrolet Help you Get the Job Done
What are you waiting for? Whether you need a dependable and tough pickup truck for the worksite, a good old-fashioned people mover, or an oversized pickup or tractor trailer for long and heavy hauls, Liberty Chevrolet has the vehicle you are looking for. Come on by our Villa Rica, Georgia dealership for the best selection of work and commercial vehicles from Carrollton to Kennesaw. We'll get you set up with the new or used Chevrolet vehicle you need!